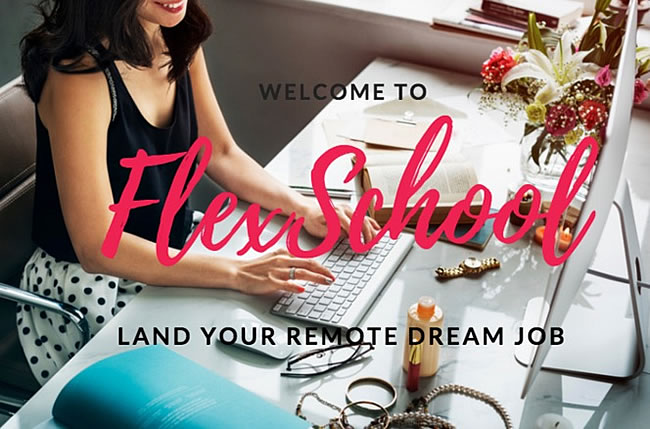 OPEN ENROLLMENT FOR FLEXSCHOOL!
Do you dream of having a flex or remote job but aren't sure how to make that happen?
Finally, you can…
Understand the different types of remote/flex opportunities available, and which makes the most sense for you
Learn what employers look for in ideal remote employees and how remote employment works
Setup your home office for success
Learn which types of technology and tools remote teams use to collaborate and communicate
Setup your time and workday to best meet the demands of your role
Have your software and hardware ready to go for remote employment
Welcome to FlexSchool!
Add to Cart $49.97
Yes, Enroll me NOW!
In these one of a kind learning lessons, we will teach you everything you need to know to optimize your success in the remote workforce. Here is what you will receive in the FlexSchool Program:
Lesson 1: Remote/Flex Work Protocols
Protocols and requirements for a successful remote (home) office
How to present well remotely
Our top 5 tips for remote/flex work success
Lesson 2: Key Trends and Top Tools in Remote/Flex work
How to stay connected on a distributed/remote team
Understanding video meeting technology
Key tools used by remote and distributed teams
How to manage the transition to remote work
Lesson 3: Remote/Flex Work Best Practices
How to effectively manage your time as a remote/flex worker
Core time tracking tools used by remote teams
Distributed team communication etiquette, tools and tech
The different types of remote/flex work scenarios
Managing your own personal commitment to a new way of working
Lesson 4: Tech Check & Your Computer
Understand key computer skills required to work remotely
How to choose and manage safety and security of digital information
How to identify your computer's ISP speed
Shortcuts to work on both Mac and PC more efficiently
Add to Cart $49.97
Yes, Enroll me NOW!
And these awesome bonuses
RockStar resumé template
Download HTML lessons for review
1 free resume review
GRAB THIS SPECIAL INTRODUCTORY RATE And learn how you can turn your remote/flex work dreams into reality!
Add to Cart $49.97
Yes, Enroll me NOW!