Focus on What You Do Best
We can manage the rest.
Gain the freedom to pursue your goals with our premium Virtual Executive Assistant services, built for visionary leaders and their teams.
Book a Call >>
Premium Virtual Executive Assistant Services




Built for Visionaries and Their Teams™
We are the last stop on your delegation journey. Powered by the Delegate Freedom System™, our services offer entrepreneurs and executive teams fractional EA support. Unlike other EVA offerings, our team are our FT employees, selected, trained and managed by us to deliver our proprietary support program. This program ensures that we are aligned and focused on how you want to spend your time once it's freed up, so you can finally make the impact only YOU can make.
We offer three virtual executive support programs:
Freedom for Leaders
Fractional Program, starting at an hour a day! Includes delegation strategy, process capture and project management, along with dedicated daily support.
Freedom for Teams
Fractional Program supporting leaders and teams. Customizable support to meet your needs at any level of the accountability chart.

Freedom Essentials
Just the basics, starting at an hour a day. Includes inbox, calendar and task level dedicated daily support.
The Delegate Difference
We wrote the book on delegation. We're not just experienced; we're trailblazers, continually redefining what "letting go" looks like. When you partner with us, you'll receive the benefits of a virtual executive support offering that's over 15 years in the making, with access to:

The Delegate Freedom System™
Designed to find you more freedom and built to anticipate your needs, our proprietary delegation system elevates you to focus on what you do best.

Business Systems
Providing hands-on support and a proven framework, we implement business operating system methodologies to systematically co-create the freedom you desire.

Teamed Approach
Designed to serve visionary leaders & their teams, our proactive model removes busywork to help optimize your time, maximize your impact & realize your vision.
How the EVA Program Works:
Our proprietary proven process ensures that you feel immediate relief that is not only effective, but completely unique to you! Using our system-as-a-service approach, we work to first understand where you want to direct your time and energy, and then we work together to create a customized delegation strategy for our team to execute as your dedicated fractional EVA.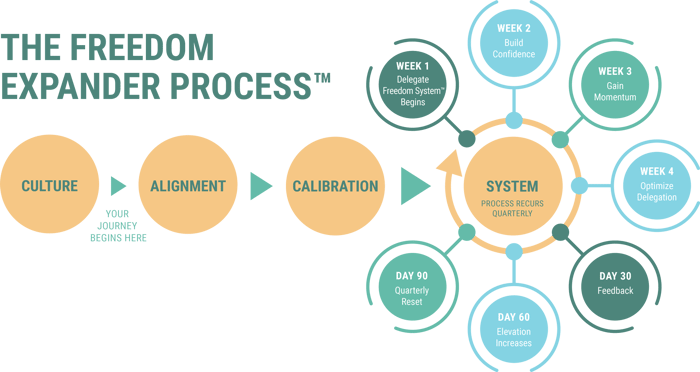 The EVA Program Sample Delegation Areas
Our team helps leaders each day let go of the following areas:
Check out a list of sample tasks we've tackled.. great for brainstorming what can go!
DOWNLOAD NOW>>
Don't just take our word for it, here's what our clients have to say:

"I love knowing that things are getting done without my direct involvement. The nagging feelings of balls being dropped is now gone because of Delegate's consistent and invaluable help."
Mark O'Donnell
Chief Visionary, EOS Worldwide

"With [Delegate Solutions'] help, I wasn't overloaded with a bunch of busywork, which freed me up to focus on the most important things as we grew."
Jim Boomer
CEO, Boomer Consulting
Looking for other ways we can help?