MASTER THE ART OF IMPACTFUL DELEGATION.
Finally, get what you want out of letting go. Our team of expert delegation strategists will bring you the tools, support and skills you need to bring your biggest dreams to life, freeing you to transform and impact the world.
We Help With All Things Delegation:
Leveraging our proprietary delegation system as a service model, we bring together a consultative mix of virtual executive support, efficiency coaching & delegation training that gives you the freedom to meet your goals.
The Delegate Freedom System™
Designed to find you more freedom and built to anticipate your needs, our proprietary delegation system elevates you to focus on what you do best.

Business Systems
Providing hands-on support and a proven framework, we implement business operating system methodologies to systematically co-create the freedom you desire.

Teamed Approach
Designed to serve visionary leaders & their teams, our proactive model removes busywork to help optimize your time, maximize your impact & realize your vision.
The Proof is in the Data:
Client Transformation Stories:
"I love knowing that things are getting done without my direct involvement. The nagging feelings of balls being dropped is now gone because of Delegate's consistent and invaluable help."
Mark O'Donnell
Chief Visionary, EOS Worldwide
"With [Delegate Solutions'] help, I wasn't overloaded with a bunch of busywork, which freed me up to focus on the most important things as we grew."
Jim Boomer
CEO, Boomer Consulting
"With the help of my PPM, I was able to launch a whole new camp offering for my business in three months! On the personal front, we worked on strategies to increase my leadership abilities... all while I was also working on my doctorate!"
Laura Kelly
CEO, The Handwork Studio
"My team had an incredible learning experience that helped us overcome communication and workflow challenges which were causing tasks to fall through the cracks. The workshop gave us a common vocabulary and focus so everyone can delegate and feel better supported."
Karen McCann McClelland
Sidwell Friends School
We literally wrote the book on delegation.
We're not just experienced; we're trailblazers, continually redefining what "letting go" looks like.
LET IT GO!
How to (Finally) Master Delegation & Scale Freedom Across Your Organization
Let it Go! by Emily Morgan, CEO of Delegate Solutions, reveals the formula for successful delegation, walking you through the mindset, techniques, and execution to scale it across your organization. Learn more about our delegation philosophy and find out what you stand to gain when you
let it go.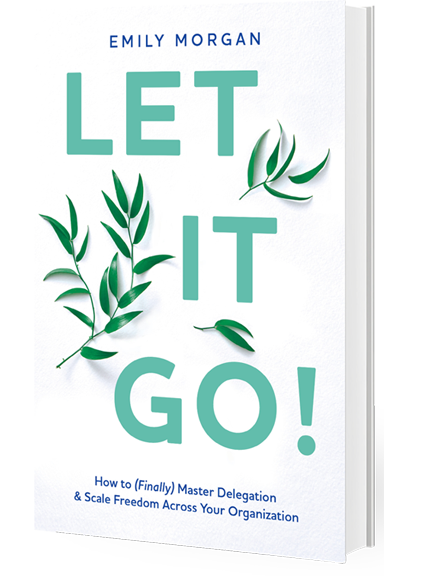 What's a Personal Project Manager™?
A PPM™ coaches you to identify your most impactful life projects, designs a project plan for each, then holds you and others accountable to get your projects "to done" in 90-day delegation sprints.
Our newest offering! As your PPM, our project is YOU! If you can dream it up, we will make it real. Unlike traditional virtual assistants who think in tasks and directives, a PPM thinks in "whole-person strategy" to help you outperform at life in 90-day sprints. The continuous momentum of our "Freedom Loop" brings high achievers the thought partnership, collaboration and accountability to get your most important projects and initiatives out of your head and finally across the finish line.