Meaningful, Professional Remote Work Opportunities
Every Delegate team member shares a passion for helping businesses thrive.
Delegate's mission is to give entrepreneurs the freedom to make an impact as we reshape the culture of the traditional workforce and live out our core values.
Our positions are 100% remote, so you'll be helping entrepreneurs succeed from your home office – but you'll have all the training and support you need. While we work flexibly, every team member is required to be available and responsive during business hours Monday through Friday, 9am to 5pm.
We currently offer salaried positions, PTO, 401K, paid holidays, healthcare through Aetna, life and disability insurance.
Positions
Thank you for considering our company for employment opportunities. We currently do not have any job openings, but we appreciate your interest. Please check back periodically or follow us on social media for future updates on opportunities.
Our Flexwork Commitment:
At Delegate Solutions, our mission is to create freedom for people to do what they love and have a big impact. This applies to the clients that we support as well as our team that delivers our service.
We are committed to helping to reshape the culture of the traditional workplace through our commitment to maintaining a flexible work environment.
Our work flexibility gives our team freedom over when and where they work.
Freedom Over Where:
Given that we are a 100% virtual company and always plan to be, a remote work culture is part of our founding DNA.
Freedom Over When:
While our team should anticipate having 9am-5pm EST availability during the workweek, there's a freedom in working from home and setting a schedule that affords you a better work/life balance over time. Our team also enjoys the freedom of having paid time off.
The Training and Onboarding Process
While our positions are 100% remote, our extensive training and onboarding process ensures that no team member works alone.
During the initial training period, every employee shadows an experienced team member to learn our process. You'll also be assigned to a PAC (a small accountability circle run by a Service Team Lead) and have access to support groups to help you learn key skills like time blocking.
Immediately upon hire, you begin a 40-hour work week which includes a combination of training, shadowing, experiential learning activities, and immediate client work. Whether it's your client's team or your Delegate team, we make sure you always have the support and accountability that you need to succeed.
What Our Team Says About Us
Not ready to apply, but want to be part of our Delegate community? Join our FREE monthly support community: The Elevated Admin Community.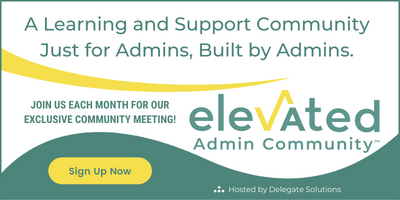 Each month we host and bring together the Admin Community virtually for learning and small group conversations around your most pressing challenges. Join our community for admins, which was built by admins.